Coral community dynamics in isolated reefs of New Caledonia in the context of ocean warming
Context
Coral communities are increasingly threatened by environmental changes, and are declining. A quantitative understanding of drivers of coral performance is key to anticipating future declines and identifying conservation solutions.
Objectives of this Ph.D
This Ph.D. investigation combines ecological and physiological approaches to characterize drivers of coral dynamics in remote coral reefs of New Caledonia's Coral Sea natural Park. Using field measurements in the isolated reefs of d'Entrecasteaux and Chesterfield, we investigate the links between coral physiological state (associated symbiont communities, photosynthesis, respiration, fecundity, bleaching sensitivity) and population dynamics (survival, growth, recruitment), and implications for coral trajectory in changing environments. This work supports coral reef management in the natural park of the Coral Sea by assessing the health and vulnerability of the coral communities, and strengthens understanding and predictions of coral community dynamics more generally.
Image : Study sites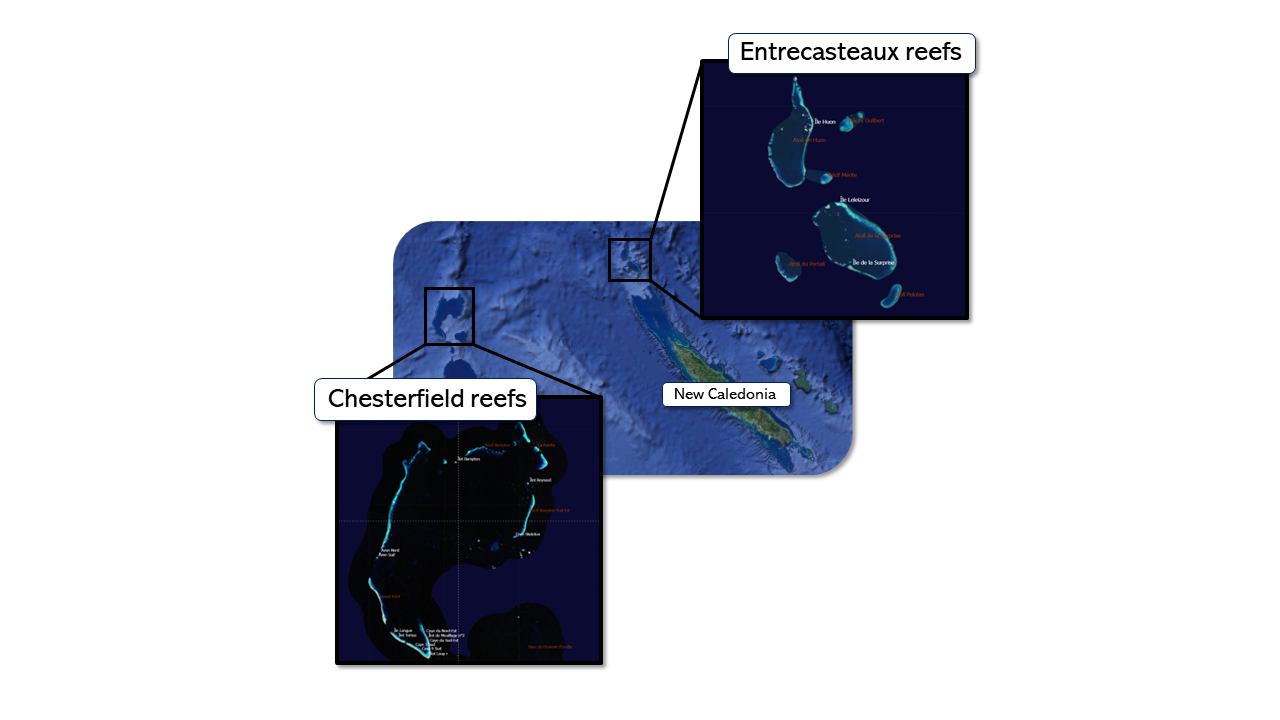 PARTICIPANTS
DOCTORANT
Sebastian Guillermin, UMR Entropie, IRD
THESIS SUPERVISORS
Fanny Houlbreque, coral physiology specialist, UMR Entropie, IRD
Mohsen Kayal, coral ecology specialist, UMR Entropie, IRD
LOGISTICAL SUPPORT
Magali Boussion, Bertrand Bourgeois, Mahé Dumas, IRD scientific divers - UMR ENTROPIE & IMAGO
Sylvie Fiat, Data Management Engineer, UMR Entropie, IRD
GLOBAL
The project involves a total of 13 researchers, mainly from two communities: ecologists/ecophysiologists specializing in coral reefs, and physical oceanographers specializing in climate variability in the tropical Pacific.
A consortium bringing together 4 laboratories (ENTROPIE, LEGOS, ESPACE DEV, LEMAR) and the Météo-France institute has been formed to provide long-term expertise in all disciplines relevant to the proposed research: specialists in coral reef ecology and ecophysiology (F. Houlbrèque, R. Rodolfo-Metalpa, M. Kayal- ENTROPIE), ocean and atmospheric dynamics (S. Cravatte, A. Ganachaud, C. Menkès, J. Lefèvre, Maxime Duphil, R. Legendre, A. Peltier, LEGOS, ENTROPIE, Météo-France), trophic ecology and benthic metabolism (A. Lorrain - LEMAR), artificial intelligence and ecosystem modeling (C. Iovan, M. Mangeas, P. Dumas - ENTROPIE, ESPACE DEV). Part of the analyses will be carried out at the King Abdullah University of Science and Technology (Kaust) under the supervision of Francesca Benzoni (Associate Professor).