CALIBRATION OF TOOLS FOR THE OBSERVATION AND MONITORING OF MARINE BIODIVERSITY IN THE COASTAL ENVIRONMENT OF THE REUNION ISLAND
Responsable
FUNDING
Grant of 323,346 € for the period from September 1, 2018 to August 31, 2021 by the ERDF 2014-2020, action 1.02 support for the observation and knowledge of biodiversity and environments.
OBJECTIVES
The CALIBIOME project aims to propose calibrated methods for better knowledge and monitoring of coastal marine biodiversity. It also aims to improve knowledge of the maintenance processes and resilience potential of marine animal communities. These tools will be developed for four compartments (fish larvae, jellyfish, coral recruits, small reef fauna). These compartments have been chosen, certainly according to local expertise, but also because they represent essential links where gaps are important.
The first unifying theme is the calibration of monitoring methods, which should enable the transfer of tools to the private sector, facilitated by a public/private partnership and the training of young researchers, who will be able to become players in the Reunionese bio-economy of tomorrow. The second unifying theme is the project to work together on workshop sites that could become permanent monitoring sites (which will then be included in the OSU-Reunion).
BRIEF DESCRIPTION OF THE PROJECT
The project is divided into four actions:
ACTION 1: LIGHT TRAPS FOR REEF FISH POST-LARVAE
Person in charge: Dominique Ponton
Objectives:
(i) To develop prototypes of innovative devices for the capture of young stages of marine animals and to test their selectivity and reliability in natural and controlled environments;
(ii) To carry out a test campaign with the selected device to perform a spatio-temporal calibration of the sampling strategy;
(iii) To improve the knowledge of fish larvae in Reunion Island through the identification of the species of individuals caught thanks to molecular barcoding.
This action is co-financed by the SLEEP-COLOR project (FEDER) carried out by the company OCEAN Consult'.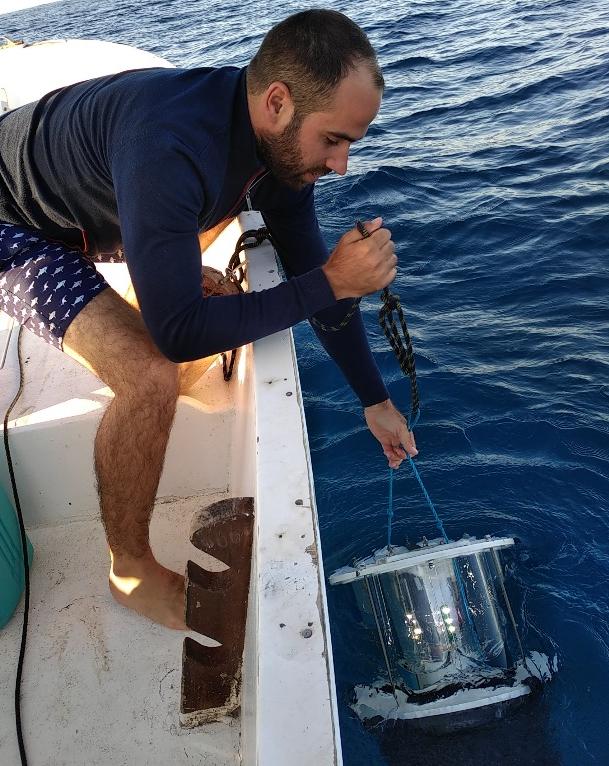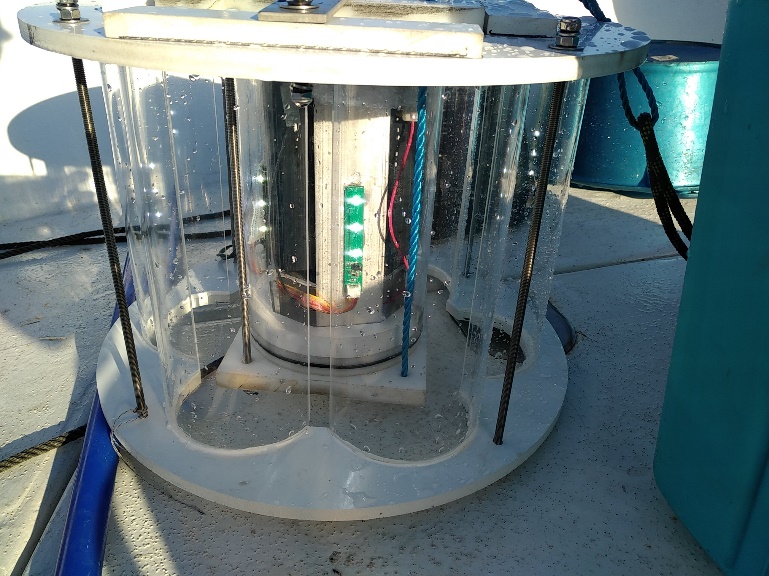 Left: raising a light trap for the sampling of reef fish post-larvae
Right: capture chamber of the new Evolutive Electronic Light System.
ACTION 2 : DIVERSITY AND SPATIO-TEMPORAL MONITORING OF JELLYFISH
Person in charge: Chloé Bourmaud
The objectives of this action are to :
(i) To know the biodiversity of jellyfish in western Reunion,
(ii) Evaluate their abundance and spatio-temporal distribution over the year (seasonality),
(iii) To develop a method of acoustic detection of jellyfish blooms (non-intrusive),
(iv) To set up a permanent observation station for the appearance of these gelatinous organisms,
(v) To train students (master and doctorate).
The implicit objective of this component is to calibrate a non-intrusive and operational method of detection of medusan blooms without the systematic intervention of a taxonomic expert, and therefore transferable to private or public managers.
Plankton net survey during coastal jellyfish sampling
ACTION 3: CORAL RECRUITMENT DEVICES
Person in charge: Lucie Penin
Objectives:
(i) To develop and adapt to the local context tools to measure the spatial variation of recruitment and early demographic processes of corals, used as indicators of the recovery capacity of the reef,
(ii) To train young researchers, future actors of a smart bio-economy in Reunion,
(iii) To develop workshop sites for environmental monitoring to international standards.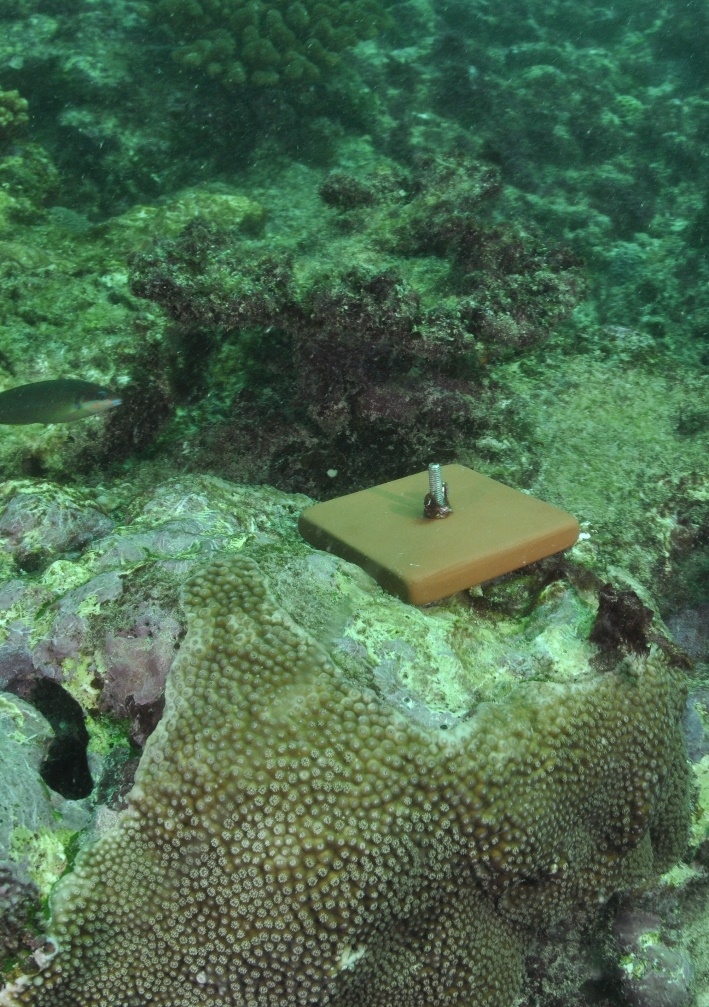 Ceramic plate used to monitor coral recruitment.
ACTION 4 : MINI-ARTIFICIAL REEFS WITH SMALL REEF FAUNA
Person in charge : Henrich Bruggemann
Objectives:
(i) To carry out an inventory of the small reef fauna (cryptobiome) on the outer slopes of the reefs of Réunion,
(ii) To quantify the spatial and temporal variation of the cryptobiome,
(iii) Training of young researchers, future actors of a smart bio-economy in Reunion,
(iiii) Developing workshop sites for environmental monitoring to international standards.
Left: Installation of a mini-reef; right: one of the plates of a micro-reef deployed for 2 years.
PARTNERSHIPS :
OCEA Consult (La Réunion)
COLLABORATIONS :
University of Cape Town (South Africa), Mediterranean Institute of Oceanology (France), National Museum of Natural History (France), Smithsonian Institution (Panama).
PUBLICATION AND ACCESSIBILITY OF RESULTS :
At the end of the CALIBIOME program (end of August 2022), the report will be posted on the UMR ENTROPIE website.
The results of the program will be published in the form of scientific articles in international journals of rank A. When they have been written and accepted, they will be accessible in the HAL (http://hal.archives-ouvertes-fr) and Horizon (http://horizon.documentation.ird.fr) databases and on the UMR ENTROPIE website (https://193.51.249.49mr-entropie.ird.nc). In addition, part of the grant is reserved for their publication in open access.
The data from the CALIBIOME project, after verification and validation, will be made available free of charge to all companies operating in the sector or sub-sector concerned on the 'DataSuds' platform (https://dataverse.ird.fr/). The metadata on the different operations (type of intervention, date, geographical coordinates) will be made available on the OSU-Reunion platform.
---
---
Projects liés
Aucun projet rattaché.